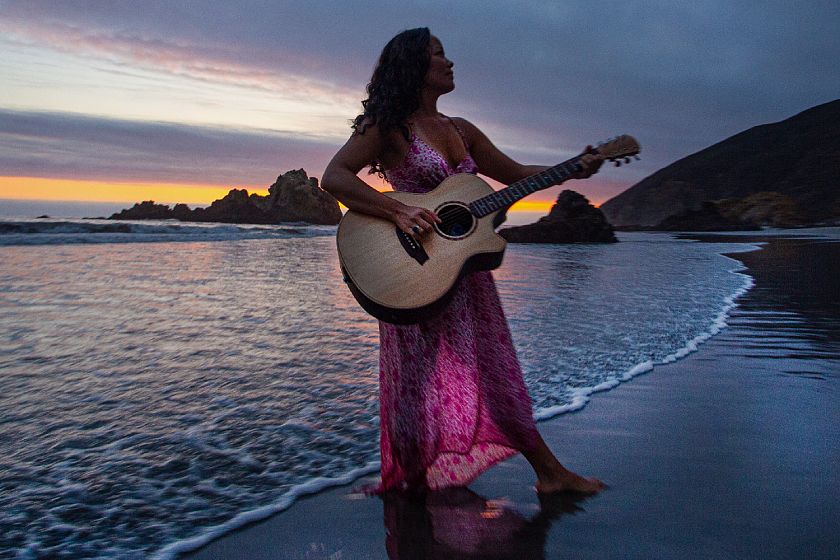 Daphne Tse
Yoga, Meditation & Music
Daphne Tse
Yoga, Meditation & Music
Daphne is a spirited, soulful artist and teacher originally from Texas. Her passion for music started from a young age and took her west to Los Angeles after university. Since her initial yoga class 25 years ago, she has explored merging her spiritual practice with her contemporary folk singer songwriter style. She studied music at The UT at Austin, The Old Town School of Folk Music in Chicago, kirtan with Jai Uttal and sound healing with Jonathan Goldman. She has travelled extensively sharing her music and teachings around the world.
Her music has been featured on yoga music compilations released by Soundstrue, Samahita and Yoga Music JP. She has released 5 albums recorded around the world including, Bali, Hawaii, Thailand and Japan.
Daphne has been teaching yoga since 2004 after completing multiple teacher trainings in Los Angeles, California. Initially specializing in kids yoga (she found joy & light working with little people), she eventually expanded her teaching to students of all ages.

She is a co-founder of VIBRANCE, an embodied movement, sounding, singing and fully integrated practice that brings us back to our medicinal roots of the yoga of dance & sound. She embraces the teachings of Ammachi, Pema Chodron, O.P. Tiwari, Erich Schiffman, Shiva Rea in her daily practice. Daphne shares her soulful teachings and music with grace and joy for living life fully.
Musical Meditation

with Daphne Tse & DJ Shoshi

11:00 AM - 12:00 PM

Sunset Yoga

with Daphne Tse & DJ Shoshi

6:00 PM - 7:00 PM

Deep Stretch Yoga

with Daphne Tse & DJ Shoshi

8:00 AM - 9:00 AM