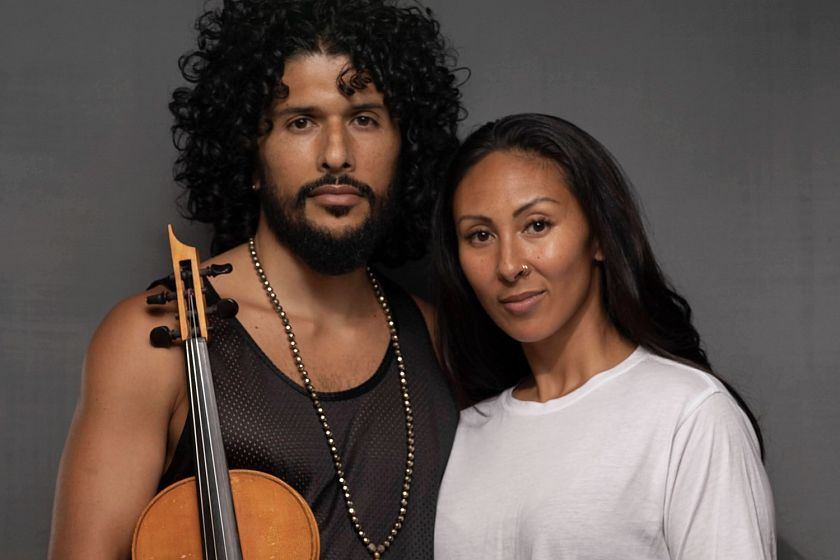 QVLN + Sunshine Zerda
Fitness, Yoga & Music
QVLN + Sunshine Zerda
Fitness, Yoga & Music
QVLN
Sunshine Zerda
International performing artist, singer, multi instrumentalist and composer, QVLN (pronounced Q-Violin) is at the forefront of music genre evolution and exploration. With an intense understanding of North, Central and South American rhythms, his creative directive is to navigate all forms of musical expression focusing on community outreach, social justice and arts education. Aside from a broad understanding of music, QVLN has also dedicated his time and energy to a balanced lifestyle incorporating fitness and wellness. Having been certified in both Nada Yoga and the martial art of Capoeira, he brings a unique and authentic approach to the health and wellness world.
Former United States Junior Olympic athlete in the sport of Gymnastics, Sunshine Zerda is also a certified personal trainer, high intensity functional training expert, RYT Yoga teacher, lululemon ambassador, Pilates Mat instructor, self-defence combat specialist and a seasoned DJ music curator. With Sunshine's diverse athletic background, she offers a physically challenging yet spiritually powerful and passionate class. Her expertise as a DJ also comes into play when selecting the right songs, rhythms, and vibe to compliment any fitness modality she is teaching.
Together they offer an experience that combines sound healing, motivating beats and uplifting movements that inspire you to reach to your higher self!
Wake Up and Move!

with Sunshine Zerda & QVLN

9:30 AM - 10:30 AM

Vibrational Yoga

with Sunshine Zerda & QVLN

5:00 PM - 6:00 PM

Fitness Jam

with Sunshine Zerda & QVLN

11:00 AM - 12:00 PM